Glossary
Terms, both classical and contemporary, as they pertain to the grape.
A ~
Aerate : to let in air; from the French 'air'. Allowing air into a glass of wine, especially reds, causes oxidation and evaporation. Oxidation gives the wine a chance to clear its throat, so to speak, ridding itself of unpleasant compounds that have been bottled up. The evaporation aids the drinker; after pouring and swirling the liquid in a glass, the evaporating aromas give complexity to the taste of the wine.
Auctions :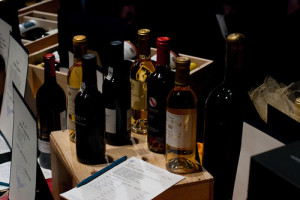 a public sale where the price of an item or lot is reached by competitive bidding, rather than negotiation, until no more 'bets' are placed, the item(s) going to the highest bidder. A buyer should know what they are looking for and have searched for it on the internet, in showrooms, at free pre-auction viewing and through auction house catalogues, available for purchase or subscription. If the auction of interest in is held by an auction house such as Christie's or Sotheby's, one must register by filling out a form through the bidding department or by signing up online. Instructions are available online or by phone. First-time bidders must provide their credit information to prove they can afford to pay; details can be procured from the specific auction house. Be prepared to give bank account number(s) and personal information.
B ~
Baco Noir / Baco Blanc :

 a hybridized, hearty grape variety from France that is resistant to diseases like oidium and phylloxera, and can also withstand the cold – many varieties of the Baco lineage are planted around the Great Lakes in the United States. Baco Noir's strong flavour is thought by some to be a good substitute for Cabernet Sauvignon. 
Barrel : a bulbous, cylindrical container used globally and throughout history for fermenting and aging wine, sherry, port, cognac. Balsamic vinegar is often aged in oak barrels from 10 to 50 litres, though can be kept in ash, chestnut or cherry each affecting the flavour. [see Balsamic]
 borderies - 
c -
crus: regions where grapes are grown.
g -
grappa: A fiery Italian brandy.