Art
Art, through the ages, has been the chronicle of our ancestors, preserving their ways of life for us to see, learn from, and enjoy.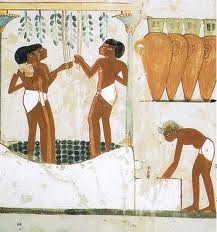 Ancient Egyptians made wine from grapes, adding herbs and spices, and the Greeks had a much appreciated recipe for date wine. Vincent Van Gogh and Picasso immortalized scenes of harvest, dancing and life's thoughtful moments, featuring grapes. Thomas Jefferson spent more money on wine than taxes. Francis Ford Coppola grew up with grapes in a wine making family, and Johnny Depp owns his own private vineyard ~ all have an intimate relationship with the grape. These and more do what they can to get the idea across by painting, sculpting, acting or writing ~ wine is essential to the good life.
Copyrights allowing, photos and articles of art pieces depicting any time alone with a bottle of wine are collected here. Enjoy!